Las Galeras Samana Dominican Republic - Las Galeras Travel Guide.
Beautiful and secluded
Las Galeras in Samana
Las Galeras is located at the end of the Samana Peninsula, only a 30 minutes drive from the town of Samana 28 kilometers away.
It still remains a small and quiet fishing village of about 3000 people, far away from mass tourism and graced by natural beauty that is among the most spectacular in Dominican Republic.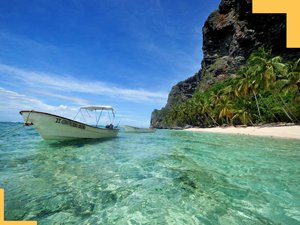 Las Galeras has a small community of foreigners from France, Italy and Germany who runs the small hotels, restaurants, bars, shops and tour agencies in town.
The local economy consist mostly of tourism activities, agriculture and fishing all set to the beat and rhythms of the typical music of Dominican Republic : Merengue, Bachata and Salsa.
Las Galeras has some of the most beautiful beaches in the Dominican Republic.
La Playita, the most popular local beach is located only 2 kilometers away from downtown Las Galeras. The spectacular beach of Playa Rincon is only a 7 minutes boat ride away along one of the most beautiful coastal scenery you'll ever seen. Other secluded beaches really worth discovering are : Playa Fronton and Playa Madame.
Las Galeras is also recognized as one of the best fishing spot in Samana Peninsula. Come deep sea fishing for sailfish, mahi-mahi, barracuda, tarpon and yellow fin tuna off the shore of Las Galeras over the Famous 1700 feet deep Puerto Rico trench.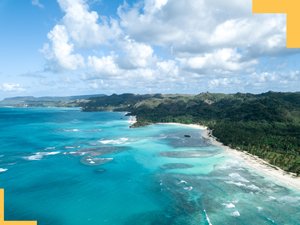 You will find a very nice selection of small hotels, apartment rental for long terms stay, restaurants serving French, Italian, Caribean and Dominican specialties, and various small tour agencies that will help you discover this fantastic and unique region of the Dominican Republic.
Top activies includes : scuba diving, snorkeling, atv quad tours, horseback riding, hiking, boating, deep sea fishing, secluded beaches exploration and much more.
The typical Dominican village of Las Galeras offers a very slow pace that makes it the perfect place to getaway from it all and forget the worries of the modern materialistic world.
The village of Las Galeras, natural beauty unspoiled by mass tourism